The Minden scenery covers an area of approx. 100 000 sq km of the Sierra Nevada mountains, Lake Tahoe and Nevada desert. Fly from famous soaring sites such as Minden, Air Sailing and Tonopah and admire the fantastic scenery of the south western USA.
This scenery can be installed through the Silent Wings installer. Start the "MaintenanceTool" that was installed along with the simulator to select which parts you want to install.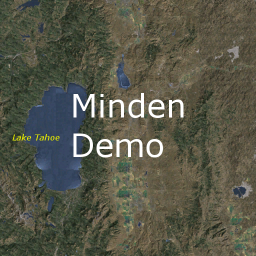 ### Full scenery To fully enjoy the simulator, you should download and install the entire Minden scenery, which is of a total of about 1500 Mb. The distribution is divided in four regions, Minden 1 - Minden 4, each of about 350-400 Mb:
You may select to install one or more of these regions; however, we recommend that you start with Minden 1, as it is generally viewed to be the most interesting soaring region. ## Installation To install the scenery files, unzip them into the `Silent Wings\data\scenery` folder. Mac users: Drop the .zip file onto the InstallScenery icon in the Silent Wings folder.